Fluoride Removal Systems
System Features
Will treat fluorides from any source
No limit to the amount of fluorides that can be removed
Can treat to a limit as low as 2 mg/L total fluoride
Batch Systems as small as 50 GPD
Continuous Systems as large as 2,000 GPM
Can use either Lime or Calcium chloride for Calcium source
Fully Automated, operator intervention required for maintenance and inspections only.
Fluorides, while not necessarily an EPA priority pollutant, are still regulated with limits as low as 2 mg/L showing up in some locations while a limit of 17 mg/L is more common. Digital Analysis manufactures a complete line of fully automated fluoride reduction systems for the removal of fluorides from industrial wastewater. Fluoride removal system sizes ranging from 50 GPD to over 1,000 GPM.

Do you have an application? If so then contact at us via the phone number or email address at the bottom of this page and allow our application engineers assist you. We take complete responsibility for the design and the performance of any wastewater treatment system that we build. We will also perform a complete treatability study with client supplied samples with which we will confirm proposed treatment efficacy, chemical usage, sludge generation volumes, and cost of operation.
Optional Equipment
SCADA System Monitoring
Remote Monitoring via an Internet Connection
Paging of alarms via email, cell phone, or SMS Text
Influent / Effluent Lift Stations
Final Effluent Monitoring
Effluent Sampling
Duplex Systems for Redundancy
Bulk Chemical Delivery
Explosion Proof Design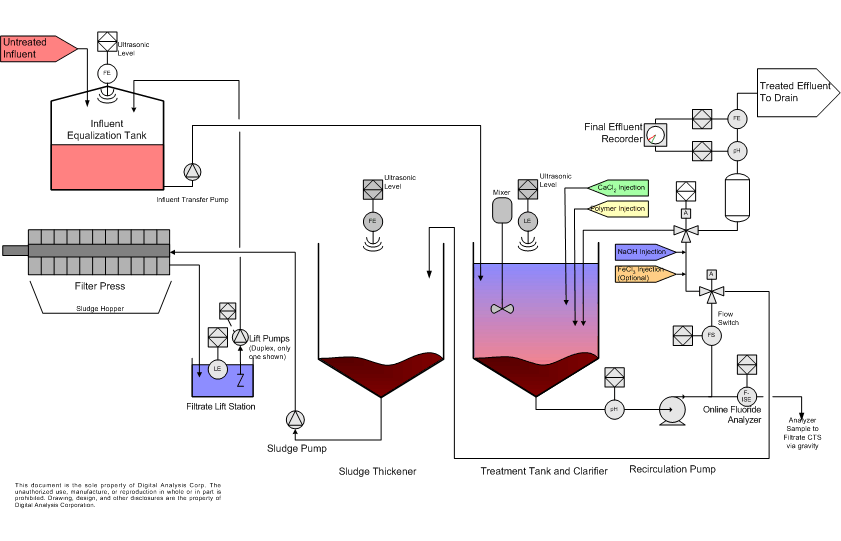 Digital Analysis manufactures both batch and continuous flow through systems. A batch system is more well suited for low or intermittent flows and / or high influent fluoride loading (e.g. > 10,000 mg/L) while continuous flow systems are more well suited for higher flows and lower influent concentrations. In the example above the entire treatment process including pretreatment, precipitation, coagulation, and gravity separation all occur in a single multi-step batch reactor. The example shown below is a continuous flow system.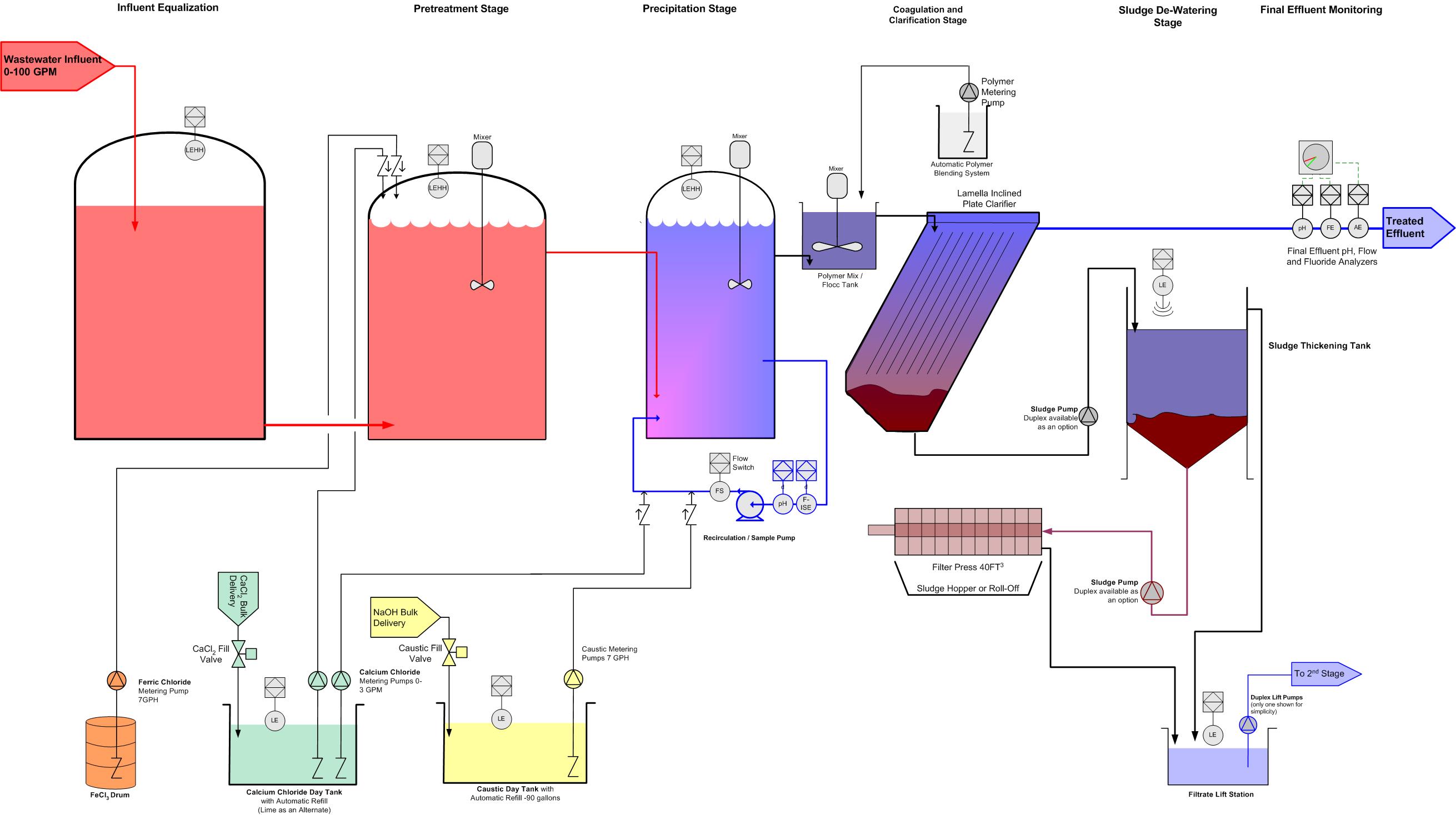 If your application requires the pH neutralization of hydrofluoric acid (HF) or the removal of fluorides please contact us or see our technical article on fluoride reduction or various case studies.